Dear Twilight Makeup/Hair/Wardrobe Team-
I know you don't know me but I think you may benefit from some suggestions in this post. Just to give you a little background on me, it just so happens that I'm TERRIFIED of vampires.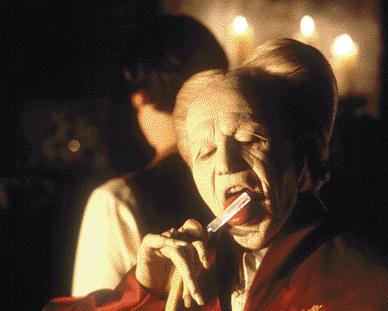 F. THAT.
I almost didn't read Twilight. What a shame that would have been, huh? But really, my friends had to actively force me to watch Interview with a Vampire and Bram Stoker's Dracula in high school and I had nightmares for days. I can't watch anything even close to scary or it's bye bye sleep for me. So imagine my excitement when I was over at my co-worker's house back in 2006 and she had this sitting on her coffee table.
Wow, it's been 5 years since I picked this thing up?!
I picked it up and read the back cover, then immediately put it back down. Vampires? No way. But she has amazing taste in books and told me I HAD to read it. Even after I told her that vampires make me pee my pants, she told me they were good vampires and to read the first chapter. If I didn't like it, I didn't have to read it. One chapter later and I was asking if I could borrow the book. One day later and I was asking if I could borrow New Moon. She was still reading it but I borrowed it afterwards and then had to wait for Eclipse and Breaking Dawn to come out (which was a LONG time).
Anyway, I'm getting off topic. When I found out Twilight was being made into a movie and I saw the cast, I wasn't impressed. Maybe it was bad photos that were released or something.
Seriously, can you blame me? Gross.
And why are his fingernails dirty?!?
I've since realized I have never seen such a beautiful group of people in 1 (or 5) movies. I mean come on...
Yeah, you people are ridiculous.
Although this cast is unnaturally hot in real life, you somehow manage to make them look less than awesome. Let's take a looksies, shall we?
Real life Rob. Delish.
Not horrible but I prefer the live version.
Ashley Greene = gorgeous
It's like Ashley Greene's ugly twin took her finger out of the light socket long enough to take a photo.
Stephenie Meyer said Rosalie Hale was the most gorgeous girl in the world or something.
She lied.
Jackson Rathbone is well... you know. Yum.
Someone call PETA. A poodle has been killed and used as a wig!
That's just a few examples. I could have kept going with many many more photos but I don't want to torment you that much. Nor do I have that kind of time on my hands. Call me crazy but the Twi cast would have been much better off if they had been left alone with just some added pale makeup and contacts.
I do have another suggestion that may benefit you if you ever choose to work on another vampire movie in the future. Head on over to the set of another vamp series that I've been recently
obsessing over
watching and maybe intern there for a day or two so you can see how it's SUPPOSED to be done. Because it seems to me (and probably the rest of the viewers) that the crew on the set of The Vampire Diaries really knows what they're doing when it comes to making the cast look hot as hell. I've provided you with some examples below.
...as does Stefan Salvatore. They almost look like the same person.
Ian Somerhalder, congratulations on your face.
It's just as hot as Damon Salvatore's. Also, nice body.
Beautiful Nina Dobrev
If Katherine didn't annoy me so much, I'd have a major girl crush.
Daniel Gillies makes my girly parts tingle
BTW if you don't follow him on twitter, you should. He's hilarious!
As does the equally hot and badass 'Elijah'.
I would again post more examples but I don't have all night. Plus I don't wanna spoiler alert people who aren't all caught up or haven't watched (shame on you!) to which characters are vampires and which one's aren't. (spoiler alert: everyone is)
So you see, dear Twilight crew, there IS a way to make vampires hot without caking on the unnatural looking chalk makeup, adding some Kmart wigs, and putting in alien-like contacts. Maybe in a few decades when they decided to remake Twilight (I shudder at the thought of a cheesy remake) the people on that crew will stumble upon this post and take my words of wisdom to heart. But until then, just know this: